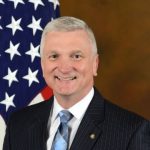 Mr. Platt assumed duties as Director of the DHS, Position, Navigation and Timing Office in October of 2016. Prior to this position he served as the Chief of Staff for the Current Operations Directorate, Headquarters Department of the Army. During this assignment he played a major role in establishing the Army Cyber Directorate and the Army Protection Program to address emerging cyber and physical threats.
From 2009 through 2015 Mr. Platt was the Army Deputy G-34. In this role he was responsible for integrating a wide range of risk management programs to include Physical Security, Law Enforcement, Anti-terrorism, Emergency Management, Critical Infrastructure Protection, Continuity of Operations, Force Health Protection, Personnel Security, and Information assurance. The integration of these programs were recognized by the Department of Defense as a best practice across the department. He has lead risk management assessments at every major command across the Army.
In the wake of major security events such as the shootings at Fort Hood, Chattanooga and the Washington Navy Yard; and unauthorized disclosure of classified data Mr. Platt was chosen to review practices across the Department and develop corrective actions. As a result of these efforts the Army committed significant resource to establish new programs such as Emergency Management, the Asymmetric Warfare Office, Insider Threat, Integrated Protection, and the Mitigation Oversight Task Force.
Mr. Platt retired from the Army in 2007 after 20 years of service as a Military Police and Systems Automation Officer. During his career he served in numerous positions to include Inspector General Fort Polk, Louisiana, Chief Army Counternarcotics, Program Manager Thermal Signature Training (ROC-V), Commander 204th Military Police Company and Battalion Operations Officer 384th MP Battalion. His Awards include the Legion of Merit and the Department of the Army Meritorious Civilian Service Award.
He is has a BS degree in Management and Computer Science from California University of Pennsylvania. He has completed the Strategic Leadership Course for Senior Managers, George Washington University, and has a Master Degree in Leadership from Georgetown University.